Augmented Reality Comes to the Classroom:
a Game-Changer for Children Learning to Read
Educators traveling to the Florida Educational Technology Conference 2011 in Orlando the first week of February were exposed to some mind-boggling new technology— education's first curriculum featuring "augmented reality" (AR). Pioneered by Logical Choice Technologies, Letters alive™ brings a kingdom of 26 "seemingly-alive" digital 3D animals into classrooms with the ultimate goal of teaching children to read at the kindergarten level.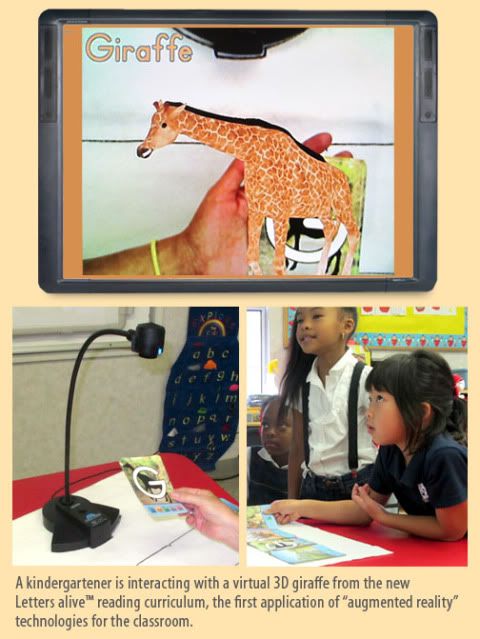 The ground-breaking technology generated a strong reaction when it was first previewed last fall on NBC's prime-time series, School Pride. It was clear that "Letters alive" creatures are not ordinary teaching animations or videos. Through the apparent magic of this futuristic AR technology, these animals are quite intelligent and clever. They not only move and make sounds, but the animals can answer questions formed by students, make comments and respond to student actions.
"The true 2-way interaction between the animals and students is mesmerizing to children," said Cynthia Kaye, founder and CEO of Logical Choice Technologies. "Add in the sounds and life-like motions of the animals and it's just a whole lot of fun for the kids. Our phonics-based curriculum is effective because it reaches children on so many sensory and emotional levels."
While it's easy to see how this AR-infused curriculum would make learning to read more exciting, it also provides the critical learning tools children need to meet the major milestones for reading and language arts at the kindergarten level:
• Acquiring an awareness of the letters in the alphabet
• Learning the specific sounds that letters make
• Understanding that letters are the building blocks for words and words for sentences
• Recognizing all pre-k and kindergarten sight words in text
Logical Choice provides a full school year of lesson plans that are aligned directly to the Common Core State Standards currently being adopted by a vast majority of states.
Today, augmented reality is quite real in the worlds of marketing, gaming and entertainment. However, the real potential for augmented reality is to enhance teaching and learning. The 2010 Horizon Report, a joint report by The New Media Consortium and Educause, predicted that augmented reality will be widespread in education within four to five years. Logical Choice appears ahead of the curve.
One roadblock may have been keeping AR from emerging in education before now. The equipment developed to support the technology was designed for individual use, not for classrooms full of students. "Our company was determined to develop an effective AR teaching application," Kaye said, "that would work with common technology devices found in today's classroom. After extensive R&D and several patent applications later, we accomplished that goal and the students also do not require expensive 3D glasses."
"We tested the beta-version of Letters alive™ in one of our kindergarten classes," said Janice Sinclair, Head of Education at the Branch Community School in Georgia. "Our kids loved working together with the virtual 3D animals. The students kept asking for more. Suddenly, learning to read was so much fun. It was so engaging that our kids just didn't want to stop."
Augmented reality technologies for educational purposes, like those being pioneered by Logical Choice Technologies, hold the promise of immersing students in experiential learning environments at every grade level that were quite unimaginable until now.
Logical Choice will introduce the Letters alive™ curriculum under the company's Logical Choice Alive™ brand during the second quarter of 2011. The product consists of a set of 124 virtual 3D cards, software, curriculum guide, and student activity sheets.